Teaching Exceptional Children 
January/February 2014 

Table of Contents
Editorial
Special Educator: Specialist or Generalist? 
Barbara Ludlow
Incontinence Issues Among Students With Disabilities: Recommendations for Teachers 
This article provides practical information to help teachers understand incontinence issues, strategies to help teachers manage and support incontinence needs across all and resources to support toileting.
Laura S. Clarke, Dusty Columbia Embury , and Anne Bauer.
Effective Practices in the Face of Principal Turnover 
This article offers school personnel practical suggestions for how to work with an outgoing administrator to actively preparew for principal turnover in order to increase the likelihood of the continuance of effective existing school programs and practices.
M. Kathleen Strickland-Cohen, Kent McIntosh , and Robert H. Horner.
Teaching Play Skills to Children With Autism Using Visually Structured Tasks 
Learners with autism can be systematically taught appropiate toy play behaviors that can then lead to enhanced social opportunities.
Patricia K. Hampshire and Jack J. Hourcade.
Developing a Progress Monitoring Portfolio for Children in Early Childhood Special Education Programs 
The benefits of constructing and using a progress monitoring portfolio to assist in the transition process from early childhood special education services to kindergarten are discussed in this article.
Nancy Stockall, Lindsay R. Dennis, and Jessica A. Rueter.
Applyng an RTI Model for Students With Learning Disabilities Who Are Gifted
With ir core principles of early intervention, highquality instruction for all students, screening and progress monitoring, and differentiated intruction – make dual students who are gifted with LD can have all their needs met and thrive.
Nina Yssel, Cheryll Adams, Laura S. Clarke, and Ruth Jones.
Nine Strategies to Improve College Transition Planning for Students With Disabilities
This article provides nine strategies to assist districts in creating a comprehensive plan to help students with LD and ADHD make a successfull transition to college.
Elizabeth C. Hamblet.
Using Flexible Participation in Technology Supported, Universally Designed Preschool Activities
UDL affords flexibility in meeting the learning needs off all children, and supports incluion of children with disabilities when teaching planned activities.
Howaed P. Parewtte, Jr. and craig Blum.
Teaching Exceptional Children 
March/April 2014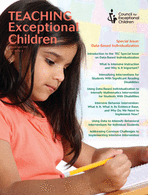 Table of Contents
Editorial
Intensifying Intervention: Kicking It Up a Notch
Barbara Ludlow
Introduction to the TEC Special Issue on Data-Based Individualization
Louis Danielson and Celia Rosenquist
What Is Intensive Instruction and Why Is It Important?
Douglas Fuchs, Lynn S. Fuchs, and Sharon Vaughn
Data-Based Individualization in Reading: Intensifying Interventions for Students With Significant Reading Disabilities
Christopher J. Lemons, Devin M. Kearns, and Kimberly A. Davidson
Using Data-Based Individualization to Intensify Mathematics Intervention for Students With Disabilities
Sarah R. Powell and Pamela M. Stecker
Intensive Behavior Intervention: What Is It, What Is Its Evidence Base, and Why Do We Need to Implement Now?
Joseph H. Wehby and Lee Kern
Using Data to Intensify Behavioral Interventions for Individual Students
Lee Kern and Joseph H. Wehby
Building and Sustaining Complex Systems: Addressing Common Challenges to Implementing Intensive Intervention
Maurice McInerney, Rebecca O. Zumeta, Allison G. Gandhi and Russell Gersten
Journal of the American Academy of Child & Adolescent Psychiatry
July 2013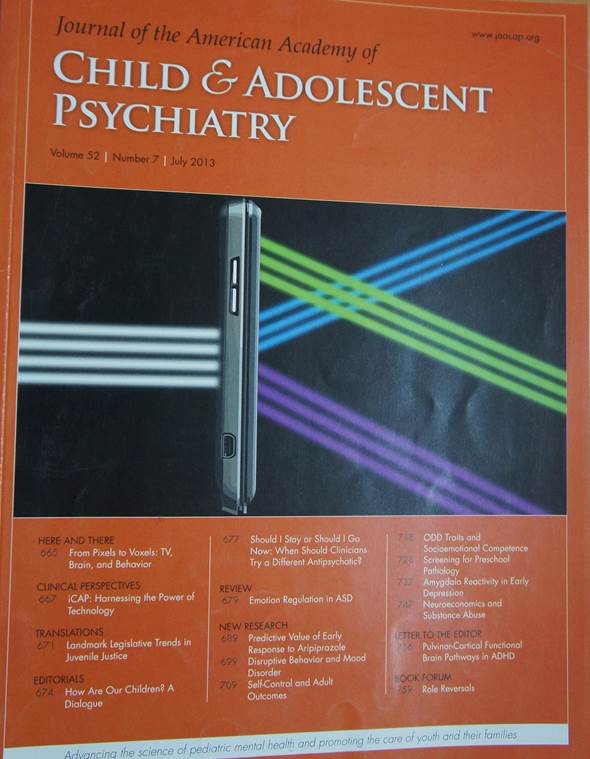 Here and there 
From Pixels to Voxels: Television, Brain, and Behavior
Clinical Perspective
iCAP: Harnessing the Power of Technology
Editorials 
How Are Our Children? A Dialogue
Should I Stay or Should I Go Now: When Should Clinicians Try a Different Antipsychotic?
New Research
Examination of Disruptive Behavior Outcomes anda Moderation in a Randomized Psychotherapy Trial for Mood Disorders
Childhood Self-Control and Adult Outcomes: Results From a 30 Year Logitudinal Study
Oppositionality and Socioemotional Competence: Interacting Risk Factors in the Development of Childhood Conduct Disorder Symptoms
Detecting Psychiatric Disorders in Preschoolers: Screening With the Strenghts and Difficulties Questionnaire
Disrupted Amygdala Reactivity in Depressed 4-to6 Year Old Children
Neuroeconomics and Adolescent Substance Abuse: Individual Differences in Neural Networks and Delay Discounting
Journal of the American Academy of Child & Adolescent Psychiatry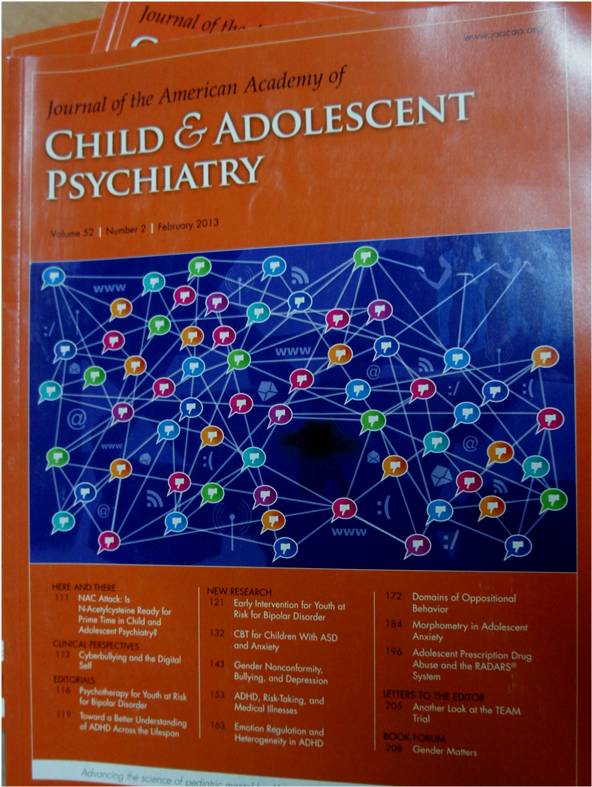 Febrero 2013
Here and there 
NAC Attack: Is N-Acetylcysteine Ready for Prime Time in Child and Adolescent Psychiatry?
Articles in this edition of the Journal draw from broad-ranging sources and methodologies including imaging and genetics, twins, latent class analyses, prospective follow-up, poison control center net…
Benjamin I. Goldstein
Clinical Perspective
 Cyberbullying and the Digital Self
The effect of online social networks (OSNs) on youth mental health has gained national attention in the wake of tragic and potentially avoidable suicides by victims of cyberbullying. The medical liter…
Karthik Sivashanker
Editorials 
Psychotherapy for Youth at Risk for Bipolar Disorder
Bipolar disorder (BP) is a recurrent illness associated with considerable psychosocial impairment and increased risk for behavior problems, suicidality, and substance abuse. Most existing treatments h…
Boris Birmaher
Toward a Better Understanding of Attention-Deficit/Hyperactivity Disorder Across the Lifespan
The article by Ramos et al. published in this issue of the Journal provides a more comprehensive view of attention-deficit/hyperactivity disorder (ADHD) across the lifespan. In it, the authors address…
Antoni Ramos-Quiroga, Raquel Vidal, Miguel Casas
New Research 
Early Intervention for Symptomatic Youth at Risk for Bipolar Disorder: A Randomized Trial of Family-Focused Therapy
Objective: Depression and brief periods of (hypo)mania are linked to an increased risk of progression to bipolar I or II disorder (BD) in children of bipolar parents. This randomized trial examined th…
David J. Miklowitz, Christopher D. Schneck, Manpreet K. Singh, Dawn O. Taylor, Elizabeth L. George, Victoria E. Cosgrove, Meghan E. Howe, L. Miriam Dickinson, Judy Garber, Kiki D. Chang et al.
The Effect of Cognitive-Behavioral Therapy Versus Treatment as Usual for Anxiety in Children With Autism Spectrum Disorders: A Randomized, Controlled Trial
Objective: To examine the efficacy of a modular cognitive-behavioral therapy (CBT) protocol relative to treatment as usual (TAU) among children with high-functioning autism spectrum disorders (ASD) an…
Eric A. Storch, Elysse B. Arnold, Adam B. Lewin, Josh M. Nadeau, Anna M. Jones, Alessandro S. De Nadai, P. Jane Mutch, Robert R. Selles, Danielle Ung, Tanya K. Murphy et al.
Childhood Gender Nonconformity, Bullying Victimization, and Depressive Symptoms Across Adolescence and Early Adulthood: An 11-Year Longitudinal Study
Objective: Childhood gender nonconformity has been associated with increased risk of caregiver abuse and bullying victimization outside the home, but it is unknown whether as a consequence children wh…
Andrea L. Roberts, Margaret Rosario, Natalie Slopen, Jerel P. Calzo, S. Bryn Austin et al.
Does Childhood Attention-Deficit/Hyperactivity Disorder Predict Risk-Taking and Medical Illnesses in Adulthood?
Objective: To test whether children with attention-deficit/hyperactivity disorder (ADHD), free of conduct disorder (CD) in childhood (mean = 8 years), have elevated risk-taking, accidents, and medical…
Maria A. Ramos Olazagasti, Rachel G. Klein, Salvatore Mannuzza, Erica Roizen Belsky, Jesse A. Hutchison, Erin C. Lashua-Shriftman, F. Xavier Castellanos et al.
 
Emotion Regulation and Heterogeneity in Attention-Deficit/Hyperactivity Disorder
Objective: How best to capture heterogeneity in attention-deficit/hyperactivity disorder (ADHD) using biomarkers has been elusive. This study evaluated whether emotion reactivity and regulation provid…
Erica D. Musser, Hilary S. Galloway-Long, Paul J. Frick, Joel T. Nigg
Separating the Domains of Oppositional Behavior: Comparing Latent Models of the Conners' Oppositional Subscale
Objective: Although oppositional defiant disorder (ODD) is usually considered the mildest of the disruptive behavior disorders, it is a key factor in predicting young adult anxiety and depression and …
Ana V. Kuny, Robert R. Althoff, William Copeland, Meike Bartels, C.E.M. Van Beijsterveldt, Julie Baer, James J. Hudziak et al.
Gray Matter Volume in Adolescent Anxiety: An Impact of the Brain-Derived Neurotrophic Factor Val66Met Polymorphism?
Objective: Minimal research links anxiety disorders in adolescents to regional gray matter volume (GMV) abnormalities and their modulation by genetic factors. Prior research suggests that a brain-deri…
Sven C. Mueller, Aveline Aouidad, Elena Gorodetsky, David Goldman, Daniel S. Pine, Monique Ernst et al.
Characterization of Adolescent Prescription Drug Abuse and Misuse Using the Researched Abuse Diversion and Addiction-Related Surveillance (RADARS®) System
Objective: To describe the characteristics and health effects of adolescent (age 13–19 years) prescription drug abuse and misuse using the Researched Abuse Diversion and Addiction-Related Surveillance…
Amy Zosel, Becki Bucher Bartelson, Elise Bailey, Steven Lowenstein, Rick Dart et al.
Letters to the editor 
Another Look at the Treatment of Early-Age Mania (TEAM) Trial
The Treatment of Early-Age Mania (TEAM) trial was a monumental undertaking whose data address issues at the heart of contemporary child and adolescent psychiatry. While the initial report emphasized t…
Joseph C. Blader  We thank Dr. Blader for his comments, which add to Dr. Stringaris's insightful editorial and offer an opportunity to discuss further the Treatment of Early-Age Mania (TEAM) study. We agree with the ob…
Benedetto Vitiello, Mark A. Riddle, Gayane Yenokyan, David A. Axelson, Boris Birmaher, Neal D. Ryan, Karen D. Wagner, Paramjit Joshi, Adelaide Robb, John T. Walkup, Joan Luby, Rebecca Tillman, Graham Emslie et al
Book Forum 
Gender Matters
 "There is no one right way to be, but there is always one right thing to do—and that is to listen very carefully to your child" (p. 133). This is the mantra of Diane Ehrensaft's new book, Gender Born,…
Laura Erickson-Schroth
Psycotherapy Networker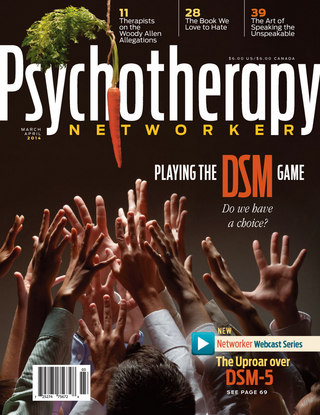 Marzo/Abril 2014
Playing the DSM Game  
The Cult of DSM by Gary Greenberg:
Labeling clients with DSM diagnoses is a ritual most of us perform to get reimbursed and pay our mortgages, but few of us actually believe in. Has the time finally come for us to take our dissatisfaction with the DSM seriously and turn it into something more than a bitter complaint?
The Book We Love to Hate by Mary Sykes Wylie: 
From small insignificant beginnings in 1952, when almost nobody read it, DSM has become a kind of sacred literary monster. Today, it's the most detested and certainly the most debated mental health classification scheme ever devised.
Shedding Light on DSM-5 by Martha Teater: 
While the polemical debates over the new DSM have received widespread coverage, the reactions of ordinary clinicians have yet to receive much scrutiny.
Extra Feature
Soft Shock Therapy by Cloe Madanes: 
Using humor to help clients reconstruct their problems, even to the point of making parodies of their own dilemmas, can help some them get distance from their woes, learn to take themselves less seriously, and perhaps even gain a bit of wisdom.
Departments 
Clinician´s Digest by Garry Cooper and Mary Sykes Wylie: 
Therapists' Perspectives on the Woody Allen Allegations
In Consultation by Judith Matz: 
Confronting Our Prejudices Against Higher-Weight Clients
Therapists should not only be aware of their prejudices toward higher-weight clients, but should commit themselves to challenge those attitudes as well.
Case Study by David Johnson: 
When we find ourselves haunted by a particular case, it may mean that we're more invested in the client making changes than the client is himself.
Point of View by Ryan Howes: 
Barbara Fredrickson's research on the biology of love and positivity demystifies our ideas about the role of intimacy, connection, and resilience in our lives.
Bookmarks by Diane Cole: 
The era of unchallenged male entitlement has come to an end, and many men are mad as hell. A new book provides context to help us deal with this anger in the consulting room.
Family Matters by Roberta Israeloff: 
Our heads may tell us that we need to embrace inevitable changes as we grow older, but our hearts often tell a different story.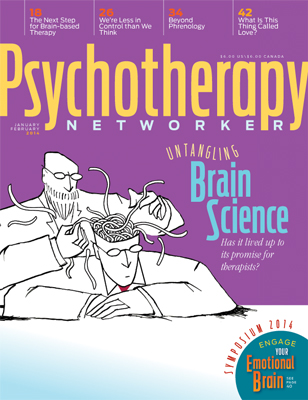 Enero/Febrero 2014
Untangling Brain Science 
The Next Big Step by Rick Hanson:
Labeling behavior in fancy neurophysiologia terms can make what we do sound more scientifically rigorous than the notoriously fuzzy language of psychotherapy. Buthow clinically useful is this brain language anyway?
The Great Deception by Brent Atkinson: 
Most of us put much too much faith in the power of our conscious minds to bring about lasting change. Instead of looking up the higher branches of consciousness, we should be looking down into the nervous system settings that generate impulses and inclinations.
Beyond Phrenology by Mary Sykes Wilie: 
If therapists are going to bring genuine insights-not just soundbites-from neuroscience into the practice of therapy, they need the nuancedm sophisticated understanding of the brain that gifted explicators like Stephen Porges and Norman Doidge offer.
Extra Feature
What Is This Thing Called Love? by Barbara Fredrickson: 
More than any other positive emotion, love resides within connections. It extends beyond personal boundaries to characterize the vibe that pulsates between and among people. It can even energize whole social networks or inspire a crowd to get up and dance.
Departments 
Clinician´s Digest by Tori Rodriguez and Katheleen Smith: 
Psychotherapy and the Affordable Care Act – Ecstasy in the Consulting Room
In Consultation by Leslie Korn: 
Learning even a little about nutrition and diet can greatly enhance therapists' ability to help clients with mood problems.
Case Study by Dan Hughes: 
Therapists must offer abused children a different felt experience of who they are.
Point of View by Ryan Howes: 
In Emotional First Aid, Manhattan psychologist Guy Winch provides an instructional manual for handling the bumps and bruises of life.
Bookmarks by Diane Cole: 
David and Goliath: Underdogs, Misfits, and the Art of Battling Giants
With his enormous success, Malcolm Gladwell has morphed from a darling underdog to a publishing juggernaut at whom it's now trendy to sling insults.
Family Matters by J. Scott Janssen: 
A Bruce Springsteen song helps crack the unspoken code of father–son communication.
En nuestra biblioteca de Invedin podrán conseguir otros títulos de publicaciones especializadas. ¡Visítala!